Prospective customers searching for a repair or service make the decision on which shop to choose based on reviews and search ranking. AutoVitals focuses on getting its clients listed on page one of search results and adds customers reviews for reputation and improved ranking. The total web presence makes a difference.
Customer Acquisition
An effective and engaging website grabs a customers attention and keeps them on your site longer resulting in more calls and appointments.
A mobile optimized site reaches and communicates with customers when they are on the go. 80% of web searches are performed via a mobile device
Specialty pages promote your unique expertise to target motorists looking for specialty service
Optional service recommendation videos educate and engage customers at the time they are looking for help.
Download a Vital Contact product brief in PDF format  
Download Now
Vital Contact provides shop owners with three key ingredients for customer acquisition from the web.
Get Found by dominating local search results and standing out from the competition.
Build a Reputation as a trusted resource with 5-Star reviews, educational videos and shop owner authored pages.
Engage Visitors with relevant information formatted for their device (mobile or PC) and then drive them to contact you.
Watch the video below to see how easy it was for Debbie to find Joe's Auto in just a few clicks.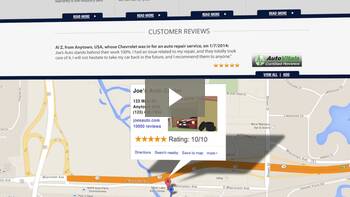 The total cost of AutoVitals Vital Connect includes a $599 setup fee plus a recurring subscription cost of $299 per month.
Additional Pricing Details:
The purchase price of this product includes a one time license fee plus a monthly subscription. You may also choose to purchase an annual license which includes 12 months of service for a 20% discount.
If you are ready to purchase now by credit card just make your selections below and click Add to Cart.  If you have questions or need additional information please contact AutoVital Sales using the Contact Us page or by phone at 866-949-2848
---